LA27 Student Writing
LA 27 enjoyed preparing and participating with Kindy and Pre-Primary students during Science Week and Book Week to complete several activities. Following this, they wrote recounts. Evan in our class was absent during the Book Week Café but wrote an introduction. He really enjoyed the Science Week activities but didn't manage to complete his recount.
Evan's work was published in the last newsletter, but I forgot to put his name on his work, so we are reprinting today.
Mrs M, LA 27
Book Café RECOUNT
By Evan M in LA 27, Year 3
Welcome to Book week Cafe, filled with the finest books. I want to ask…aren't you tired of reading without gobbling up your favourite food? I bet you are, well if you are…come to this fine place and stare at the book pages while chomping up your food.
And here's the best part…it's your choice, you can choose any book on the menu. Come to this place at the library at Landsdale Primary school on the 22nd of August 2023.
Our book: 'The sweetest egg of all'
Teacher's comment: Absent for the Book Café, but still wrote a terrific 'sizzling start'.
Recount of Science Week – sizzling start only
By Evan M in LA 27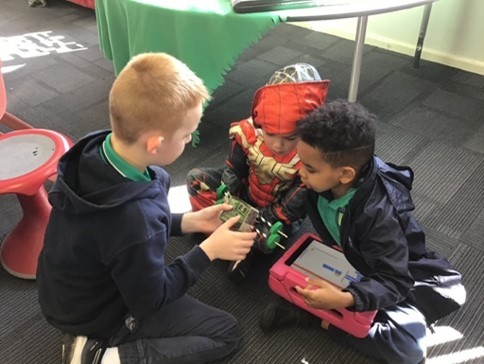 We are going mad with science today. Watch some epic experiments with science things like robo farms, Spheros (sphere robots) and cars (that are made from cardboard). Epic inventions awaited you at Landsdale Primary School in LA27 on the 15th of August with our Kindy A buddies from Mrs Carratti and Mrs Maynard's class.
Teacher's comment: Absent, so not completed.
Landsdale PS – Our 2023 Plastic Use Survey
Year 3s at Landsdale Primary School are working on a major integrated Sustainability and Science, Technology, Engineering, Mathematics (STEM) Design project in Semester 2, 2023. Our goal is to find ways to reduce plastic and packaging, as well as food waste in our daily life, so that we protect our environment into the future.
Part of this project is collecting data and information to identify the areas in which we can imagine, design, create and test solutions.
This survey will collect anonymous responses to find out some of the areas in which our school community uses plastic in our everyday lives. It will also collect information about waste disposal.
We want to significantly reduce the use of plastic to ensure our oceans and waterways do not become even more polluted with plastics and microplastics. We want to reduce organic (particularly food) waste disposal which can be a major source of greenhouse gas emissions which negatively affect our climate.
Please help us to make a positive difference to ALL our futures, NOW!
PLEASE ONLY HAVE ONE FAMILY MEMBER COMPLETE THE SURVEY
If you would like to find out a little more about the current state of plastic in our environment, here are some links.
War on Waste, ABC TV, Interactive Summary Student resource ABC TV Education
Plastic Free July - homepage

Plastic Free July Take the Pesky Plastics Quiz (find out about lots of areas you can reduce plastic use!)
War on Waste, ABC TV, Series 3 - full series 3 episodes
Click the link to complete the survey
80's Dress Up Day
Class Placement Requests
The school is now planning for classes and class structure for the 2024 school year. As you would imagine it is very difficult to predict enrolment numbers this far out from the beginning of next year.
Landsdale Primary School ensures classes are formed in such a way as to best meet the needs of its students. The school spends a considerable amount of time creating its class structure which is based upon the professional judgements of staff with the aim of creating the best learning environment for each student. All factors are considered when making these judgements. The best interest of all students is paramount when making placement decisions.
Parents and carers may request a specific class placement through providing the school with educational reasoning behind this request. This may be in the form of specific information about their child's learning needs that they believe the school may not be aware of. Such information would not include any requests regarding a particular individual teacher. Please be aware that these requests may be considered but not automatically accommodated. Please email Mrs Tania Burke tania.burke@education.wa.edu.au or send a letter marked 'Private and Confidential' to Mrs Burke by Friday 27th October 2023.
Class lists will be formed and then reviewed by all staff and submitted to the Executive Team for further review. Following this, any changes to class placement will only be made in exceptional circumstances, however this tends to be extremely rare.
2024 Kindergarten Enrolments
Please see the front office urgently if you still wish to enrol for Kindergarten next year.
Telethon Holiday Makers Program – Enrolments Now Open!
Hello,
We have opened enrolments for the September/October Telethon Holiday Makers Program groups in Fremantle, Marangaroo and Rockingham for autistic participants with groups that cater for under 10s, 10 to 15 year olds and 13 to 18 year olds. Places are allocated on a first come first served basis, and we would love to welcome some of your students to the Program.
Details - please note not all sessions are available at all locations - click here for more information
Dates: School holidays (weekdays only) from 26th September to the 6th October.
Time: 9am – 4pm
U10s: 9am – 12pm
Enrolment: All participants must be enrolled before attending the Program. To enrol, please fill in the expression of interest form here or to call us on 9431 2111.
More information about our groups
As well as running the Telethon Holiday Makers Program, we also run social groups throughout the school year. Using a strengths-based approach, we connect autistic young people with others and provide opportunities for social interaction, engagement and fun. Designed for specific age ranges, the social groups offer a regular program of events and activities for members. We provide a place where individuals from 10 years old to adults can come to have fun, develop new friendships and develop new skills, enabling them to begin to apply social skills in a natural environment. Participants are invited to make decisions on what they would like to do throughout the term, both individually and as a group. If participants have a plan or self-managed NDIS plan, they can use their funds to access our services, but we also have a limited number of subsidised rates for those without NDIS funding.​
For more information about our services, please contact us via email, phone on 9431 2111 or visit our website here
Kingsway School Holiday Programs
Volleyball WA Upcoming Events/Programs
As the school holidays approach Volleyball WA will be providing activities for the holidays, education opportunities and continuing with Term programs.
South-West Kids & Junior Beach Volleyball School Holiday Camp
Tuesday 26th & Wednesday 27th September
Kids & Junior Beach Volleyball School Holiday Camp
Tuesday 3rd October & Wednesday 4th October
Introductory (Primary School) Volleyball Teacher Professional Development Workshop
October 6th 2023, Warwick Stadium, 9:00am-11:00am
Intermediate (High School) Volleyball Teacher Professional Development Workshop
October 6th 2023, Warwick Stadium, 12:00pm-3:00pm
Kids Volley Term 4 Programs
Commencing from 7th October
Junior Volley Term 4 Programs
Commencing from 7th October
We are also happy to advise the extension of our Kids & Junior Volley Free Trial campaign to include Term 4 programs.
Sean Andrews
Discover Volleyball Coordinator – Juniors
Normal working days are Monday, Tuesday, Thursday & Friday 9am – 2.45pm
Volleyball WA08 9228 8522 | www.volleyballwa.com.au | sean@volleyballwa.com.au
180 Charles Street, West Perth WA 6005 | PO Box 133, Leederville WA 6903
Follow Volleyball WA on Facebook and Instagram!
GKR Karate
AusBike – Learn to Ride
My name is Toby, I'm the Community Development Manager for AusCycling in Perth.
We're very happy to be hosting an AusBike program on the Landsdale Primary School oval in Term 4.
AusBike is an awesome learn to ride program that has been developed by AusCycling (NSO) and is currently being launched nationwide.
AusBike is aimed at kids aged 5-12 years old who are starting out on the bike riding journey. The program is delivered over 8 weeks in Term 4 and aims to teach kids how to ride in a safe and controlled environment. The sessions will be delivered by an accredited AusCycling coach with a lot of experience working with children.
Registration for the program is open now. It would be amazing if you could share this information with your school community before the coming holidays.
Registration and Information: https://raceroster.com/events/2023/79121/midland-cycle-club
Please don't hesitate to call myself or coach Ross if you have any questions.
Toby Brown
Toby (AusCycling)- 0404545729
Ross (coach) - 0415110165
Drama Stars – One-off School Holiday Session
Parenting Connection – Free Programs to Families
Parent Workshop – Understanding the Escalation and De-escalation Process – 25th October in Mirrabooka
Parenting Programs
Canteen Information – Sue Uyen, Manager
CANTEEN INFORMATION

Manager: Sue Uyen
Tel: 0410 894 457
As we come close to the end of term we want to thank all the parents and teachers for their ongoing support of our canteen.
We love what we do and couldn't do it without you guys. We also wanted to thank you for all the support during our school carnival day.
We were run off our feet but enjoyed every minute of it!
As term 4 starts we will have the kids favourite slushy's back and our winter menu replaced with our summer one.
We hope you all enjoy the break and look forward to feeding all the kiddies again in term 4
Thank You
The Bush Blues Cafe team
P&C News – Colour Explosion 2023
Colour Explosion 2023 is coming! You should have received your booklet to get you started by creating your profile to commence your fundraising efforts. Visit https://myprofilepage.com.au/

More information about the most colourful day of the year will be shared next term, but everyone will need a white t-shirt to make the colour pop.

Thanks for your support!
Sports News
Basketball
Some fantastic news for our Boys A Division Basketball team who have been invited to the WA Champions Cup at Bendat Basketball Centre on November 20th. The boys had an undefeated run at the Joondalup regional competition in Term 1 before losing the grand final on a 3-point buzzer beater to Quinns Baptist, however have still qualified for the grander stage. We are all very excited at the opportunity and can't wait to begin training for the day!
Interschool Athletics Carnival
A massive congratulations to the 90 students who represented Lansdale at the Interschool Athletics Carnival at Ashdale P.S. Landsdale walked away with a valiant 2nd place of the 5 schools as well as winning the Meritorious Shield in one of our best performances as a school to date! There were some tremendous results throughout all year levels and the students should be proud of the way they carried themselves throughout the carnival.
Running Club
Congratulations to Kai N for reaching 100 laps in the Monday Morning Running Club!
Student Birthdays
The following students have birthdays coming up in the next fortnight. We would like to wish them all a very Happy Birthday on their special day.
Date

Name

Year

21st September

Dane
DJ
Ruby
Ada

6
5
P
3

22ndSeptember

Ava
Kyrah

P
K

23rd September

Amira
Kingston
Hivda
Amara
Grace
Archer
Lillian

1
1
2
K
5
4
5

24th September

Olivia
Hiya

3
6

25th September

Ava
Luca
Abel
Vritti

3
K
2
4

26th September

Flynn
Aria

P
K

27th September

Zade

6

28th September

Lily

P

29th September

Nate
Isabel

5
2

30th September

Luca
Jarrad
Jaini
Kayla
Reece
Evan

5
4
P
6
6
6

1st October

Maahir
Benjamin

K
3

2nd October

Rory

2

3rd October

Pragat
Saanvi
Malakai

K
K
K

4th October

Ava
Mia

4
4

5th October

Jameson
Shruti

2
3

6th October

Jacob
Brody

5
6

7th October

Cooper
Rachel

4
1

8th October

Jacinta

5

9th October

Summer

3

10th October

Leon
Lucy

6
2

11th October

Luke
Jett

P
5

12th October

Felicity
Shubh
Naomi

3
1
K5
School Calendar
Important Dates

Friday 22nd September, 2023

Last Day of Term 3

Monday 9th October, 2023

First Day of Term 4

Wednesday 11th October, 2023

Junior Assembly Hosted by LA 24

Tuesday 17th – Thursday 19th October, 2023

Yr 6 Swan Valley Adventure Centre Camp

Wednesday 18th October, 2023

Senior Assembly Hosted by LA 25

Friday 20th October, 2023

School Development Day – Students Do Not Attend

Wednesday 25th October, 2023

Junior Assembly Hosted by LA 11 & 12

Wednesday 1st November, 2023

Senior Assembly Hosted by LA 29

Wednesday 8th November, 2023

Senior Assembly Hosted by LA 30

Wednesday 15th November, 2023

Senior Assembly Hosted by LA 31

Wednesday 22nd November, 2023

Junior Assembly Hosted by LA 7

29th November, 2023

Senior Assembly Hosted by LA 28

Thursday 30th November – Friday 1 December, 2023

Yr 6 Transition Day at Ashdale SC

Wednesday 13th December, 2023

Yr 6 Graduation Day

Thursday 14th December, 2023

Last Day of Term 4
From the Principal
Dear Parents and Caregivers
Here we are at week 10. What a busy and exciting term we have had at Landsdale Primary School.
Many thanks to all our families who have participated in Book week, Faction Carnival and Super Hiro Dress Up Day. There was a wonderful community feeling at all these events. We have taken on your feedback for next year and have spread out these events over term 3.
Term 4 is always busy with our Year 6 students commencing all their end of year activities, it's a very exciting time for these young people has they finish their time in primary school.
As we start the school holiday break, make sure you and your family stay safe and well.
See you back ready for term 4 on Monday 9th October.
Kind regards,
Kerryn Woodhouse