01 June 2023
From the Principal
Dear Parents and Carers,
As we move into Week 7 of Term 2, we are beginning to see Winter's impact already with unwell children. Just a reminder for our families that if your child/children are feeling unwell please keep them at home. The best place to rest and recover is at home and this helps to reduce the spread of germs through our classrooms. We have seen a rise in Covid-19 and Influenza A in the last couple of weeks and continue to encourage healthy hygiene practices to reduce infections at our school. Thank you for your support.
During Semester One of this year parents were asked to complete a survey related to the birthday letters that have been sent to every child in the school. Thank you to those parents who took part in the survey to give us relevant information on this school initiative. Moving forward in Semester Two we will be changing this initiate to be more sustainable and fit with our whole school sustainability model. Instead of every child receiving an individual hard copy paper letter, all children will be individually acknowledged in our online school newsletter. Each fortnight, if your child's birthday falls within this time period, you will be able to see their name and a birthday message wishing them a wonderful birthday. It is our hope that our families will show this to our students so they can see their name and feel valued on their special day.
This weekend is the WA Day long weekend and our school is closed on Monday the 5th of June. I would like to wish all of our families a wonderful long weekend and I hope you are able to spend some quality time together enjoying our great state!
Kindest regards,
Ms Kerryn Woodhouse
Principal
School Calendar
Important Dates

Monday 5th June, 2023

Public Holiday

Tuesday 6th June, 2023

Ashdale Cluster Winter Lightning Carnival

Friday 16th June, 2023

P&C School Disco

Friday 30th June, 2023

Last Day of Term 2

Monday 17th July, 2023

School Development Day – Students Do Not Attend

Tuesday 18th July, 2023

First Day of Term 3

Monday 21st August, 2023

Faction Carnival: Jumps, Throws & Distance Races

Friday 25th August, 2023

Faction Carnival: Flat Races & Team Games

Wednesday & Thursday, 30th & 31st August, 2023

School Photos

Friday 22nd September, 2023

Last Day of Term 3

Monday 9th October, 2023

First Day of Term 4

Friday 20th October, 2023

School Development Day – Students Do Not Attend

Thursday 14th December, 2023

Last Day of Term 4
Chaplain's Chat
Hello!
For those of you that are new to Landsdale Primary School I would like to welcome you and let you know of my services. I am the school Chaplain, and my role is to provide holistic pastoral care to students, school staff and members of the community, irrespective of faith or cultural backgrounds. The pastoral care provided includes one on one and group sessions addressing physical and mental health issues, social and values education, behaviour management, emotional support and professional referrals, where appropriate. Please know my door is always open and I am always happy to help.
I wanted to take a moment to share some further supports that you might find helpful. Some topics that have come past my office of late are students sharing that they are struggling with sleepless nights, worry, anxiety and friendship issues. There are some amazing services available that could provide some help, support and guidance:
Triple P Parenting
This is a free online service that helps make raising kids easier. It gives you tips and ideas to help raise happy and confident kids; see more of the behaviours you like and less of the ones you don't; and have better relationships with your family.
Smiling mind
Smiling minds has developed an app, with guided sleep mediations and a range of tools and resources to support families to build their mental fitness together.
Big Life Journal
A program designed to focus on children developing a growth mind set, build great resilience and not fear challenges.
The school library
Our library has some excellent resources you can access from the LEAP section – Linking Education and Parents, with books covering topics such as:
You just sign up like you would at your local community library or you can use your child's account.
I hope you find this helpful and please know my door is always open.
My hours and days: 8:30am -3:30pm Tuesday - Friday
My email is: michelle.bispo@youthcare.org.au or michelle.bispo@education.com.au
Tender of Skope Vertical Display – Extension
Landsdale Primary School has a Skope 980lt vertical display chiller with 2 glass doors and top mounted motor, available for purchase by tender. The item was purchased in March 2021 and will be sold in "as is" condition. Members of the school community can place a tender. The purchaser will need to take into consideration the cost of removing the condenser unit off the top prior to removal from the canteen for transporting. All tenders must be handed into the school office in a sealed envelope, marked confidential and addressed to Jacqui Lyons, Manager Corporate Services. Tenders close at 3.30pm on Friday 9th of June. The successful tender will be notified by Friday 16th of June.
Third Party Services Forms Survey - Reminder
Have you completed your child(ren)'s Third Party Services form yet? All Kindy to Year 6 families have received a class dojo message with the link within the last few weeks, You can access the forms survey via the QR code below or this link
It is imperative all forms are completed by Friday 16 June, thank you for your cooperation.
Sports News …. with Mr Baggio & Mr Brown
Monday Morning Running Club
Congrats to Hayley R for reaching 100 laps and Lachie F for reaching 300 laps of the Monday Morning Running Club.
Fume Free Fridays – by Your Move Student Team
Our school is going to be having Fume Free Fridays, which is where our school community can walk or ride instead of driving a car, to keep our environment clean and beautiful! We really hope to be seeing lots of you guys walking or riding instead of driving to keep the environment clean!
P&C News
The Week 3 P&C Meeting was held, and the P&C had the opportunity to meet the new school principal Ms Kerryn Woodhouse and introduce the P&C Members. If you would like to be involved or come to a meeting, they are held every Term Week 3 & 7. The next meeting is the 7th of June 2023 at 7:30PM at the school, keep an eye out on the Facebook Socials.
The fundraising and events calendar for 2023 is up and running with many of the usual events for students all approved, keep watch of our Facebook page for all the updates to stay current.
With Quiz Night & Mother's Day Stall all wrapped up and I would like to thank everyone involved in organising and running the events on the day. Thankyou also to the Canteen crew, who run an amazing canteen and post amazing looking food through the Bush Blues Cafe socials too.
We quickly move our sights onto the school disco, which is rapidly approaching scheduled on Friday the 16th of June 2023.
Did You Know?
Where the P&C Funds go each year, take a look at the following poster detailing some of what the P&C funds go to within our school.
Want to find out more about the P&C?
Take a look at our Follow our Facebook Socials Poster.
Many thanks on behalf of the Landsdale Primary P&C
Mark
P&C President 2023
Kiss N Drive - Roadwise
Each term has designated year groups for parents to volunteer for a session to help Kiss N Drive in the afternoon. Parents are able to forward plan their session into the year and change as required.
Please note that the Kiss N Drive is not just the responsibility of the school, the Kiss N Drive is outside school grounds and is not the responsibility of the school to run, that's where parents and volunteers come in.
The roster updates in real time which makes changes immediately allowing the roster to look after itself.
A link to the roster is below. The Roadwise Committee will do the first week of each term as we return to school. Thursday of the first week will double as a training session for those who wish to see how easy it is before you do your own.
All parents participating that term will go into a raffle to win one of two $10 vouchers for the canteen and don't forget you also have the use of a staff car park on the day you volunteer for Kiss N Drive. If you find it as easy as you thought it would be, roster in for a second or third session for more entries into the draw!!
This was Kiss N Drive's first major change to how it's been run in the school's 24 year history and has been running for a couple of years now. The committee was so excited to spread the word and see this grow year on year after much planning and to have it be so successful was an extra win.
Now it's over to the parents of 2023 to help even 'just once' to make it a success.
Contact our Roadwise Coordinator for any questions on lpspandcroadwise@gmail.com
Canteen Information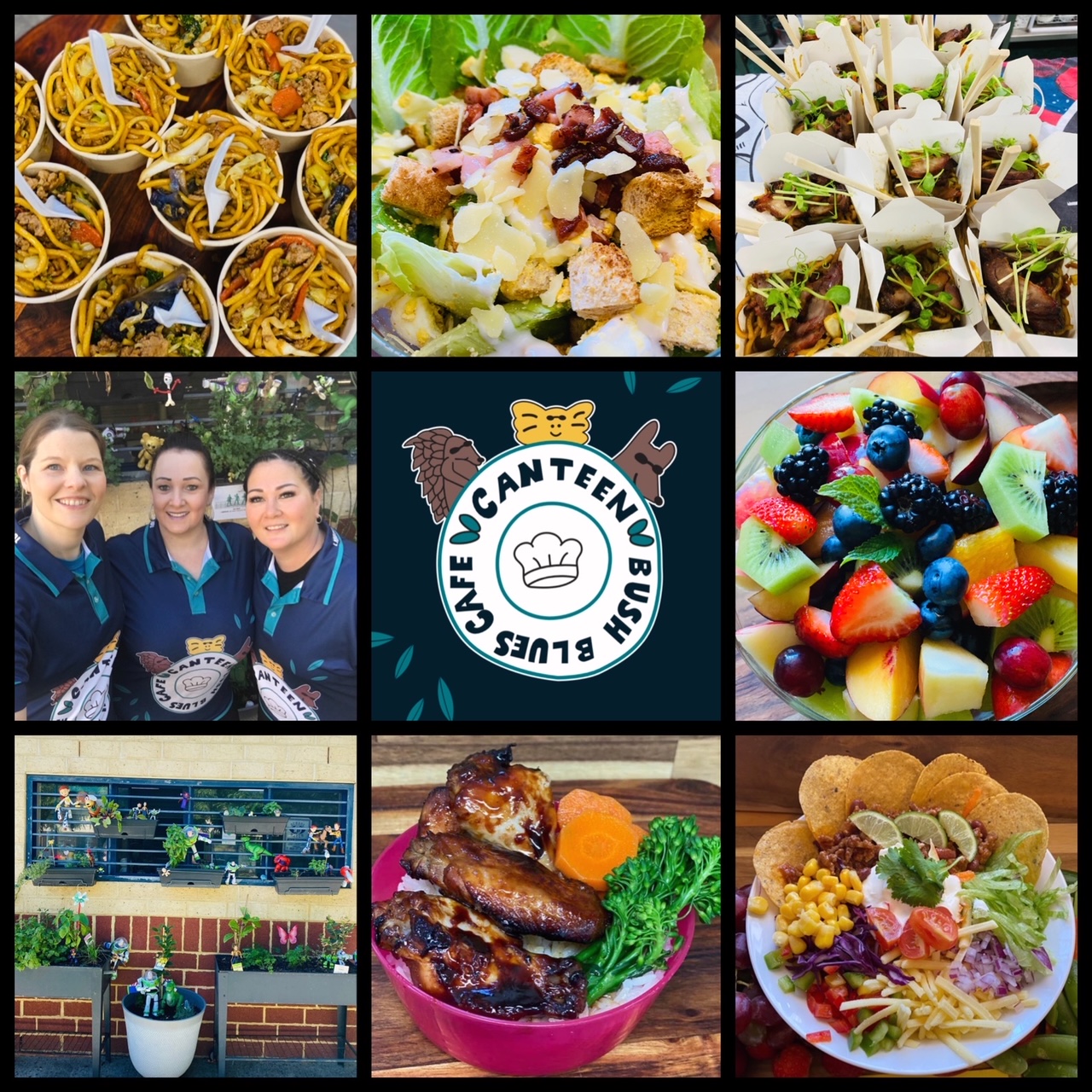 CANTEEN INFORMATION
Canteen Manager: Sue Uyen
Phone: 0410 894 457
Opening hours: 8:30am to 1:45pm
We have our own Facebook page! Please like and follow us:
Reminder - Teacher Tuesday and Student Waste Free Wednesday Specials are available to order via Qkr and advertised on the P&C FB page the Sunday prior around 10am.
Emergency lunches happen from time to time and we will never let a student go hungry. If your child comes home with a note from the canteen, the amount can be paid in cash the next day or on Qkr via the accounts to pay menu.
Thanks
Sue, Nat & the canteen team
Uniform Shop News
For all uniform requirements, please contact Tudor Uniforms on Tel. 9408 2666 or the link below. Their address is: Unit 1/75 Excellence Dr, Wangara.
Leap – Parent Information
Welcome to Bilingual Families Perth
Bilingual Families Perth is a not-for-profit network of linguistically diverse people in Western Australia.
Our network connects over 500 families and individuals from more than 40 language backgrounds. In the past 10 years we have provided support for families who speak Afrikaans, Bengali, Bosnian, Bulgarian, Cantonese, Catalan, Croatian, Czech, Danish, Dutch, English, Farsi, Finnish, French, German, Gujarati, Greek, Hindi, Indonesian, Italian, Japanese, Korean, Macedonian, Malay, Malayalam, Mandarin, Mongolian, Norwegian, Polish, Portuguese, Punjabi, Russian, Samoan, Serbian, Spanish, Swahili, Swiss-German, Swedish, Tagalog, Tamil, Turkish, Vietnamese besides various dialects of the relevant languages.
Most families have pre-school or school-aged children and we are experiencing similar issues while raising our children in more than one language. We also work together with professionals who share information on bilingualism and multilingualism. We can probably put you in touch with people who speak your language.
Junior Engineers – Holiday Camp
Attention all space explorers!
Blast off into outer space this Winter School Holidays with Junior Engineers' new out-of-this-world Coding & Robotics Camps for Kids 5 to 13 years old!
Receive a $25 discount by using the code NEWBIE25. The code expires Sunday 4 June.
Book now to secure your place and learn their new space themed curriculum!
#Codingisfun
Ellenbrook Fencing Club
Ellenbrook Fencing Club is a not for profit sporting club, that teaches the Olympic sport of epee fencing. We are a small but modestly successful Club and the only fencing Club in the City of Swan and surrounds.
We have had a lot of success at State level, with teenagers and primary school students. In fact, last year, our students were the State u13 boys epee champion, the State u13 girls epee champion and the State u15 girls epee champion!
We train at Priestley Hall at Guildford Grammar Preparatory School, on Tuesday 5.45-7.15pm and Saturday 9-11am.
We are offering Landsdale Primary School students and staff a $15 per session discount from our normal Club session price (so pay $15 instead of $30), for the first 4 weeks. You would just need to mention that you are coming to the Club because of the SCHOOL'S PROMOTION. Just call or text Bruce on 0413688300 to make arrangements.
City of Wanneroo – Bin Sticker Competition
Following on from the success of previous years' "Bin Sticker Competition" we are excited to invite students at your school to participate in our upcoming design competition. The competition is open to all students and aims to encourage creativity, environmental awareness, and community involvement.
The competition requires students to plan, design and create a persuasive poster that will be turned into bin stickers for bins in the parks and along the coast. This project provides a fantastic opportunity for students to showcase their artistic talents and demonstrate their commitment to environmental responsibility. It is also a great way to engage students in a fun and meaningful activity that supports their academic growth.
Please see the attached poster. The size of the sticker will be A3 in size, so you may choose to either print off the template in this size, or complete as an A4 and we will do the enlarging.
Entries close 5pm, Wednesday 19th July 2023.
Enquiries: City of Wanneroo Waste Education Officer, 9405 5000