2 November 2023
From the Principal
Dear Parents and Caregivers
You may be aware that one of our school rules is 'Be Respectful'. This is extremely important at Landsdale Primary School because each day we focus on ensuring our students are respectful to their teachers, our staff, other students, themselves and the wider community. This assists us in continuing to develop our positive, respectful culture at Landsdale Primary School. We explicitly teach respect at Landsdale Primary School to our students in a number of ways such as:
Acts of Service: Children learn a great deal from serving others. For example, putting the needs of others first is one way to show respect.
Personal Connections: We give children the opportunity to share about ways in which they show respect every day. They write about ways they are respectful which helps them realise that they can and do!
Encouraging Honesty: We support students to be honest citizens of the world by assisting them to know what it means when someone doesn't tell the truth. Our students have a restorative approach so they know the impact of their decisions on others.
Expressing Gratitude: Our students are encouraged to express gratitude in order to be respectful to others. We ensure they are thankful daily!
One area we have focused on is also the language used in our school environment. Some words or phrases are not appropriate in a respectful school environment. Children are mirrors; they reflect back to us everything we say and do. We now know that 95% of everything children learn, they learn from what is modelled for them. Only 5% of all they learn is from direct instruction. Human beings are like tape recorders. Every word we hear, everything we experience, is permanently recorded in our subconscious. Whenever adults speak, we are being role models for the children in our presence. What we speak is what we teach. Children record every word we ever say to them or in front of them. The language children grow up hearing is the language they will speak.
As we are partners in developing our young people I hope you will also talk to your children about respect and what that looks like at home, school and in the community.
Thank you for being such wonderful role model to our young people and supporting us to develop respectful citizens of the world.
Kindest regards,
Ms Kerryn Woodhouse
School Calendar
Important Dates

Wednesday 8th November, 2023

Senior Assembly Hosted by LA 30

Wednesday 15th November, 2023

Senior Assembly Hosted by LA 31

Wednesday 22nd November, 2023

Junior Assembly Hosted by LA 7

29th November, 2023

Senior Assembly Hosted by LA 28

Thursday 30th November – Friday 1 December, 2023

Yr 6 Transition Day at Ashdale SC

Wednesday 13th December, 2023

Yr 6 Graduation commencing at 9.00am

Thursday 14th December, 2023

Last Day of Term 4
Student Birthdays
The following students have birthdays coming up in the next fortnight. We would like to wish them all a very Happy Birthday on their special day.
Date

Name

Year

2nd November

Jaxon

1

3rd November

Mateo

PP

4th November

Ollie
Hayden
Eloise
Heeva
Alexander

2
4
1
2
K

6th November

Eivind
Gurnaaz

2
2

7th November

Lucas
Dung

6
4

8th November

Maddison
Breanna
Nura

2
K
K

9th November

Sarah
Bodhi
Max
Anaiyah-Rae

5
P
2
1

10th November

Logan
Salma
Kosuke
Jimmy
Imogen
Aarav
Shivam

2
2
6
1
6
6
1

11th November

Keelie
Levi
Eva
Savannah
Alexander

2
K
6
4
P

12th November

Sofia
Isabella
Colton
Petrina

K
3
5
K

13th November

Lachie
Sanchi
Elianna
Kai

4
1
3
4

14th November

Jayaansh
Selena
Jonny

K
1
3

15th November

Akuol
Annabelle

6
4
1-1 BYOD iPad Program Information Session
Join us in the library on Thursday, 2nd November 2023 at 4pm for an informative event that all parents of upcoming year 4 students should attend. This in-person session is a great opportunity for parents to learn more about our innovative iPad program.
During the session, our knowledgeable staff will provide detailed information about the program, including its benefits and how it enhances learning. We'll discuss the curriculum integration, educational apps, and device requirements.
Your attendance will ensure you are well informed and provided with a chance to ask questions, and gain a better understanding of how this program fosters creativity, collaboration, and critical thinking skills in our students.
Don't miss out on this valuable opportunity to discover how the Landsdale Primary School 1-1 BYOD iPad Program can empower your child's education. We look forward to seeing you there.
Please click the link below to secure your spot:
Landsdale Primary School 1-1 BYOD iPad Program Information Session
Everything you need to know about the change to our 1-1 BYOD program including device requirements and how we use iPads to enhance learning.
www.eventbrite.com.au

Kind regards
Kristin Bunn
Deputy Principal
2024 Kindergarten Enrolments
Please see the front office urgently if you still wish to enrol for Kindergarten next year.
Our Friend-o-Leaders Program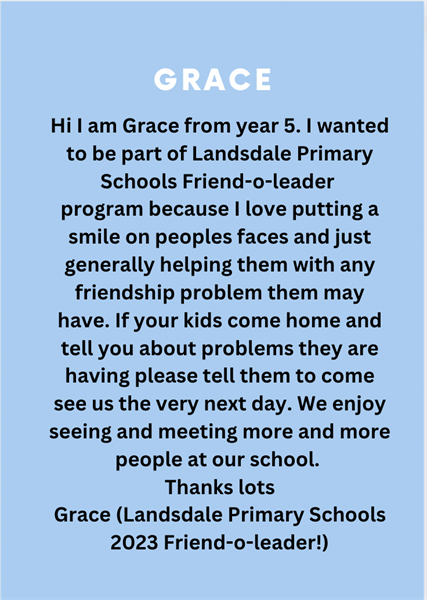 Prev
Showing images
1 - 8
of 10
Next
Research shows that peer mentoring has positive outcomes for everyone involved. Some positive impacts for mentees including:
Connectedness to school and peers
Feelings of competency and self-efficacy
Grades and academic achievement
Prosocial behaviour and attitudes
For mentors, there have been reported improvements in:
Connectedness to school
Self-esteem
Empathy and moral reasoning
Intrapersonal communication and conflict resolution skills
Relationships with parents
Quite often children feel more comfortable talking to another student, rather than a teacher, about their friendship issues. Friend-o-Leaders are a win-win-win!
Our Friend-o-Leader program at Landsdale Primary during lunchtimes is going amazingly! Please see the images below to learn a little bit more about each of our leaders. They have designed a blub on Canva to introduce themselves to our community again and I am very proud of their efforts this term. Keep up the fabulous effort team.
Mrs Paplinski
Sports News
Running Club
Congratulations to Kael M (100 laps) and Emily H (200 laps) for hitting their latest milestone in our Monday morning Running Club!
P&C News – Colour Explosion 2023
Colour Explosion is next week, Friday 10th November!
On the day we have a junior track and a senior track on the lower oval (near the Community Centre). The kindy students will be using the junior track from 2pm to 2:20pm. The Pre-primary to Year 2's are on the junior track and the Year 3s to Year 6s on the senior track from 2:20pm to 2:50pm.
White shirts are recommended to help the colour pop, plus students will receive a headband and sunglasses on the day.
The colour explosion uses non-toxic coloured power and any students registered as asthmatic will receive a bandana for use if needed.
Spectators are welcome, please take care when parking.
Canteen Information – Sue Uyen, Manager
CANTEEN INFORMATION
Manager: Sue Uyen
Tel: 0410 894 457
We are super excited to be back in term 4 with our summer menu which sees the return of our fresh fruit salads and the kid's favourite slushy. We also have a new Brownes spearmint milkshake and a 5-health star rated frozen yoghurt. All available to order on QKR! or to buy over the counter at lunchtime.
Uniform Shop News
For all uniform requirements, please contact Tudor Uniforms on Tel. 9408 2666 or the link below. Their address is: Unit 1/75 Excellence Dr, Wangara.
Welcome to Bilingual Families Perth
Bilingual Families Perth is a not-for-profit network of linguistically diverse people in Western Australia.
Our network connects over 500 families and individuals from more than 40 language backgrounds. In the past 10 years we have provided support for families who speak Afrikaans, Bengali, Bosnian, Bulgarian, Cantonese, Catalan, Croatian, Czech, Danish, Dutch, English, Farsi, Finnish, French, German, Gujarati, Greek, Hindi, Indonesian, Italian, Japanese, Korean, Macedonian, Malay, Malayalam, Mandarin, Mongolian, Norwegian, Polish, Portuguese, Punjabi, Russian, Samoan, Serbian, Spanish, Swahili, Swiss-German, Swedish, Tagalog, Tamil, Turkish, Vietnamese besides various dialects of the relevant languages.
Most families have pre-school or school-aged children and we are experiencing similar issues while raising our children in more than one language. We also work together with professionals who share information on bilingualism and multilingualism. We can probably put you in touch with people who speak your language

Leap – Parent Information
Wanneroo Christmas Day Lunch 2023